Madame Détective vous conseille…
Dans certains articles on retrouve ce petit logo:


C'est le Amo Seal of Quality, ou plus connu sous le nom de « Madame Détective vous confirme que ça bute ». C'est donc toutes les choses que j'ai particulièrement bien aimé et dont je vous conseille véhément d'y jeter un oeil.
Voici la liste de tous les articles concernés, dans l'ordre chronologique de publication des articles et par catégorie:
Anime / Manga
Jeu Vidéo
Autres
Platinum Seal of Quality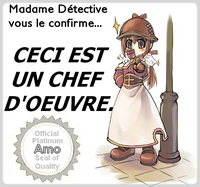 Une récompense ultra-giga-rare récompensant les oeuvres… ultimes, celles vraiment vraiment vraiment vraiment excellentes. Qui m'ont souvent marquées plus que de raison.
C'est tout. Pour le moment.